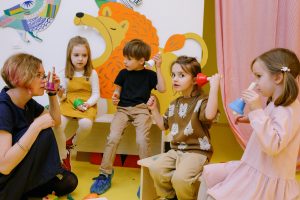 What is a Speech Pathologist?
Speech pathologists are university-qualified health professionals, who study, diagnose and treat communication disorders, including difficulties with speech, language, swallowing, fluency and voice across the human lifespan.  All Speech Pathologists working in the Dee Wardrop team are registered members of the national association Speech Pathology Australia and members of the association's (voluntary) self-regulation program.
Can our Speech Pathologists help you?
Each of our therapists has areas of specific professional interest and this enables us to support a wide range of clients at all ages and stages of life. We aim to provide our clients with access to a group of experienced speech pathologists, to ensure we can match each client with the therapist who best suits their needs.
Services for Children
Our therapists have extensive experience in all aspects of children's learning and communication difficulties. We provide family-based therapy services in a bright and fun environment and we are happy to be in contact with other members of your child's team at any time.  We can provide advice and support for:
Babies & Pre-schoolers
Babies with feeding difficulties
Toddlers who are slow starting to talk
Children with speech, language or hearing & listening difficulties
Children preparing for school entry
Children requiring assessment for Autism Spectrum Disorders
Children eligible for services under the FACHSIA funding scheme (Autism or Better Start)
Children with multiple needs
Preschoolers requiring help to make friends & develop social skills
School Aged Children & Adolescents
Children with reading and spelling difficulties
Social Skills group programs for children
Children or adolescents with Autism Spectrum Disorders
Children with language delays and sensory processing difficulties
Students with hearing loss, listening or auditory processing difficulties
Children with multiple and complex needs
Children requiring augmentative or alternative communication support
Services for Adults
Our therapists have a wealth of experience in all areas of adult communication and swallowing. We enjoy our work with professionals and independent adults; developing effective intervention plans and celebrating excellent outcomes.
For less independent clients, we work closely with care facilities and families to promote participation, encourage clients to engage in decisions about their care, and to optimise communication and swallowing. We are always pleased to be working in collaboration with a team of family and carers to ensure the best support possible for each client. We can offer support to:
Professionals, students or other adults concerned about their accent
People concerned about their speech production or clarity
Adults with voice disorders, stutters or hearing loss
Adults and aged care facility residents with speech, language or swallowing difficulties
Adults with progressive neurological conditions (e.g. Parkinson's, Multiple Sclerosis)
Adults seeking speech and language support following accident or illness (e.g. stroke, head injury)