We're moving our therapy sessions online from Monday 23 March
This applies until further notice, and we'll be progressing quickly towards that with increased online sessions this week. Please check out Our COVID-19 Response post for details on what this means for any sessions you currently have booked.
Online Therapy Services – is this new for DWSP?
Nope. We've been running online services for the past 19 months, and already use our online software daily in between team members as we operate across all 4 clinics. We first used online therapy working with an Australian family living in Panama in 2014, and in the past 5 years we have watched with interest as many hospitals and universities across Australia have increasingly adopted online health services as a way of providing services and helping clients and families to have great outcomes; little different to the outcomes seen in traditional face-to-face therapy.
One of our staff members lives in rural NSW and offers online therapy to Melbourne clients, and several families can't make it to the clinic after school in heavy traffic, so already have their sessions running online from home.
So far we've found online therapy to be a great way to offer a flexible, high quality service that's convenient for families. Our goal had been to increase this part of our practice in 2020, (albeit not this early in the year).
In this period when we are are trying to reduce the risk of the COVID-19 disease transmission within our community – it's the perfect option for us to offer online services to all our clients, not just those who are a long way from the clinic.
Is online therapy different to clinic based therapy?
Yes, and no. The goals and the aim of the therapy session remains the same, but working on goals online can require some adaption and discussion.
When working with children the therapist acts as a coach and advisor, with the parent facilitating the session directly with the child. Usually the materials and strategies are similar, sometimes the child gets to use their own toys, or special toys the therapist has suggested ahead of the session.
For adult clients, online therapy often provides a chance to show activities around home that are difficult, or a more relaxed environment to discuss their care than having to navigate time off work, travel, public transport or parking to get to the clinic.
The benefits of online services are convenience, reduced travel, a familiar environment, engagement and interest in the screen based session, and a great way to get families involved in a therapy program with a clinician as an online coach and advisor. We often find that clients become more independent and organised, learning how to sequence, use and request the technology involved.
Online therapy highlights for us so far have been:
being Chrome Cast onto the living room TV for a session
sharing screens enabling us to show videos or materials we've prepared
observing parents becoming more confident in using therapy tools as they work with their child to learn a new skill
a You Tube dance off at the end of the session as a reward when goals were achieved
including the family dog in therapy sessions whilst a client practiced the 's' sound saying "sit" and "stay"
being taken into the bathroom to see what actually happens at bath time!
Is it difficult to use the technology?
Nope. We can change your clinic based session to an online one with one click, and then can offer your regular therapy appointment time so you don't need to miss a session. Your therapist will run the session as normal using a secure online program, which can be set up for you quickly and easily.
You are emailed an invitation to join the session at the allocated time, and simply click the link on your phone or computer to log in. When you first book your online session we'll send you a set up sheet so you know exactly what to do.
What happens in an online session?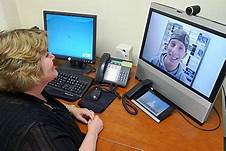 The same things as in the clinic! A review of progress, setting up goals for the session, then activities or games to work on the goal, with a review and plan for practice. Sometimes at home you can find many more activities to suit your goals, and they're often things you use every day.
If you're a new client, the therapist will want to chat about your concerns, background, and then work on some activities, games or play based tasks to assess current skills.
The main difference we notice in online sessions is that discussion is even more vital throughout the sessions. Clear communication helps us work as a team and adapt things; changing position, activity or behaviour to ensure that clients and families always understand what to do, and that therapists get enough information to make clinical decisions. In the clinic setting, therapists tend to do most of this thinking in their own heads, but in online work it needs to be discussed and explored together. Online sessions are a collaborative process, and discussion is really important to the success of the sessions.
As a team, we believe that online services are the logical way for us to continue to provide the highest quality care for our clients, as well as providing the greatest amount of protection to clients, families, colleagues and our community at this time.
We hope you'll come to enjoy the benefits of online therapy as much as we do, and view it as a workable, flexible option for you and your family during this short term period, and hopefully beyond.