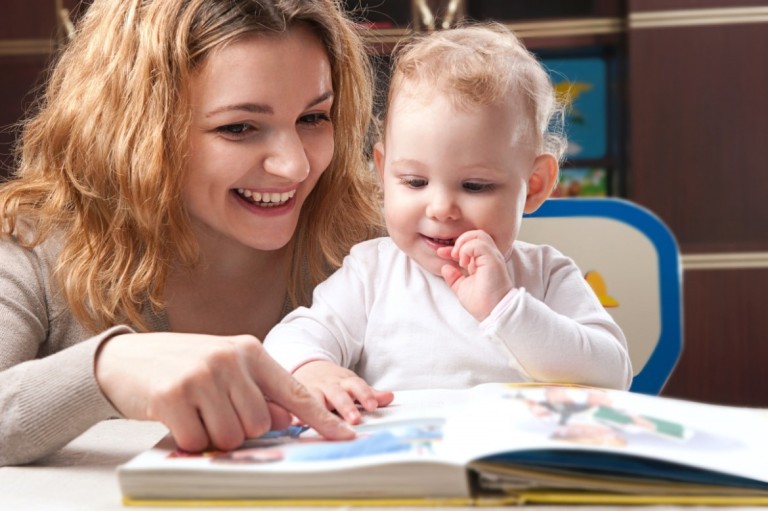 Babies learn to love the sound of language long before they notice printed words on a page. Sharing books with children stimulates their imagination and expands their understanding of the world. It helps them develop language and listening skills and prepares them to understand the written word.
As Speech Pathologists, one of our great hopes when working with families is that they will make reading a part of everyday family life. Our main goal in reading with children is not to teach children to read, but to share a love of books. Children who enjoy reading will practice reading independently and become fluent, lifelong readers. Parents can help by sharing books with their children and choosing great stories and poems to read. As children begin a lifelong relationship with the printed word, they will grow into adults who read easily and frequently whether for business, knowledge, or pleasure.
Reading starts with talking…
Most parents know that they should read to their children. But few realise just how much talking with your children is the foundation of literacy and language success.
In 1995 an American study* recorded interactions between parents and pre-schoolers for 2 1/2 years. By age three, the differences in how many words each child had heard were significant: some children had heard over 11 million words per year; others only 3 million. This study showed a direct link between a child's academic performance at age 7 and the amount of words spoken in their home from birth to age three, regardless of race, ethnicity or socioeconomic status.
The study showed that 30,000 is the "magic number" of words children need to hear each day to predict academic success. (NB: This is the equivalent of reading Dr Seuss' The Cat in the Hat 18 times).
While all parents in the study used instructional language, e.g. "put that down", but families that exceeded 30,000 words per day talked about what they were doing, commented on things they saw or heard, and read books every day. This means the 30,000 words didn't all have to all be new for the child, there just needed to be lots of them!
How long should I read to my child each day?
As often as you possibly can! This table shows how many words your child hears when you read aloud – (so for example if you read to your child for 20 minutes every day, they will hear over a million words a year – or 3100 per day). It also shows how many extra words parents can provide by adding just 10 extra minutes of reading time each day.
Reading Time Per Day
Number of Words
Extra words per year with 10 minutes extra reading each day!
% Increase in Word Exposure
5mins
282,800 per year
800 per day
895,043 per year
2500 per day
217%
10mins
622,000 per year
1700 per day
1,269,917 per year
2500 per day
104%
15mins
1,146,000 per year
3000 per day
1,953,042 per year
5350 per day
70%
20mins
1,823,000 per year
5000 per day
2,686,981 per year
7350 per day
47%
65mins
4,358,000 per year
12,000 per day
5,028,462 per year
13,800 per day
15%
Adapted from 2008 Scientific Learning Corporation & Adams M.J. 2006 The promise of automatic speech recognition for fostering literacy growth in children and adults. In M.C. McKenna, L.D.Labbo, R. D. Kieffer, & D. Reinking (Eds.), International Handbook of Literacy and Technology, Volume 2.Mahwah, NJ: Lawrence ErlbaumAssociates.
Encouraging Your Preschool Reader
The most important thing to remember is that reading should be an enjoyable, playful experience. Your child does not need to sit through a whole story to gain the benefits of reading with you!
There is no need to read a book from cover to cover – you can ignore the text, focus on the pictures, name the items you see (or make the noises) and enjoy turning pages and looking together.
Talk about what interests your child: There is no need to read a book from cover to cover – you can ignore the text, focus on the pictures, name the items you see (or make the noises) and enjoy turning pages and looking together.
Model good reading habits: Help your child understand that reading is important by letting him see you reading. Keep books that are of interest to your child in an easy place for him to reach.
Visit your local library: Let your child choose some books to take home or attend for story time sessions.
Repetition: Preschoolers love reading the same books over and over again. They enjoy the reassurance and anticipation of knowing what will happen next!
Books for early readers (12-18 Months): At this time, children are often interested in learning the names of objects and will point to and ask adults to name objects. Look for:

Interactive books (e.g. flaps, cut-outs, touch-and-feel books).
Books with simple photos and pictures of objects.
Illustrated songs and repetitive books.
Encouraging Your School Age Reader
Once your child begins school, there is a big focus on learning to read. Ensure that reading remains fun at home – if children enjoy story time, have access to good books and adults who enthusiastically read books aloud to them, they will remain motivated to improve their reading skills through a love of reading itself.
Additional ways to encourage your school-age child include:
Continue being a good role model: Let your child see you read!
Encourage your child to read on her own at home by offering varied reading materials for enjoyment, for reference and for reading together.
Establish a shared reading time, even if it's only 10 minutes each day
Encourage family activities that require reading: e.g. write short notes for your child to read, cook (recipe), construct (directions), or identifying a bird's nest (reference material on internet).
Give your child writing materials: Reading and writing go hand in hand. Children want to learn to write and to practice writing. If you make the materials available, your child will be more inclined to initiate their own writing activities.
Continue to visit the library regularly: get your child their own library card. Choose books to read to younger siblings, encourage stories on CD / tablets for long car trips.
* Hart, Betty; Risley, Todd R. Baltimore, MD, US: Paul H Brookes Publishing Meaningful differences in the everyday experience of young American children. (1995).