Roxanne is a Speech Pathologist working in several schools.  She enjoys supporting upper primary and secondary students in the school based setting.
How long have you been with DWSP?
I have been part of the DWSP team for almost 3 years. 
In a couple of sentences, talk us through your role at DWSP
I am a speech pathologist and I have a special interest in working with children. Currently, I work mainly within schools, providing direct assessment and therapy for students with language, literacy and social interaction difficulties. I also work closely with parents and teachers to empower them to support the communication and learning needs of individual students at home and within the classroom.
What is your favourite part of your role?
I love working with children and families long-term and seeing progress over time. It is fantastic to see children become more confident and successful in communicating and to witness the positive impact this has on their relationships with other people.
Where did you grow up?
Melbourne, Sorrento and Coronet Bay.
Before DWSP, what was the most interesting or unusual job you've ever had?
I spent two years living in the United Kingdom and during that time I worked in a Language Resource Unit for school-aged children with severe language disorders and learning difficulties. I worked with an interesting and diverse range of clients and learned SO much!
What are your hobbies outside of work?
I really enjoy reading, watching movies, the beach, aerobics, travelling and spending time with my family and friends.
If you could be a superhero, what would your superpower be?
To move with superhuman speed!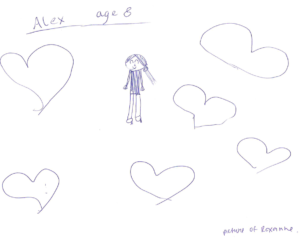 "Roxanne" by Alex, aged 8.