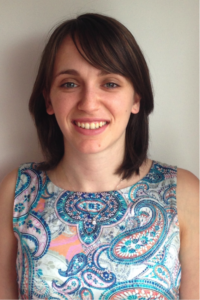 How long have you been working with DWSP?
I have been working at DWSP for 3 and a half years
In a couple of sentences, talk us through your role at DWSP
I work as an Occupational Therapist. Many people don't really know what that is or just think that it involves playing games all day long! My days are varied and can involve time in the clinic, at people's homes, at schools, playgrounds or even at a circus. No two days are the same which I love.
Rebecca Black, OT
What is your favourite part of your role?
The variety. I work with children and adults with all kinds of needs, and the work is always changing. I enjoy getting to know the people that I am working with and seeing the smile on their face when they have been working hard on something for months and they finally achieve their goal; that's a great feeling.
Where did you grow up?
I have lived in Melbourne since I was born however I recently visited Greece for the first time and was able to see the village where my mum was born which was special.
Before DWSP, what was the most interesting or unusual job you've ever had?
My first job was working at McDonalds when I was 15 years old, however, my most interesting job would probably have been working as a Disability Support Worker in supported accommodation while I was studying at University; this was very difficult but rewarding work, I learnt a lot and it had a huge impact on me.
What are your hobbies outside of work?
I play volleyball and basketball and enjoy being active. I live by the beach and enjoy spending time there whenever I can get some free time.
If you could be a superhero, what would your superpower be?
I think it would be the ability to transport instantly to any place in the world. I love the idea of not having to spend 15 hours on a plane and being able to visit beautiful places around the world.