The lead up to Christmas is such a fun time of year for kids and adults alike. Doing Christmas themed activities in sessions is a great way to entice children to sneakily work on skills while they think they are just enjoying themselves!
Here is some of the tried and true Christmas fun we love using in our therapy – you might like to try some of these ideas at home this week if school, kindergarten and daycare have finished up for the year.
Playdough
This year we made red, green and white playdough and we've used it in a var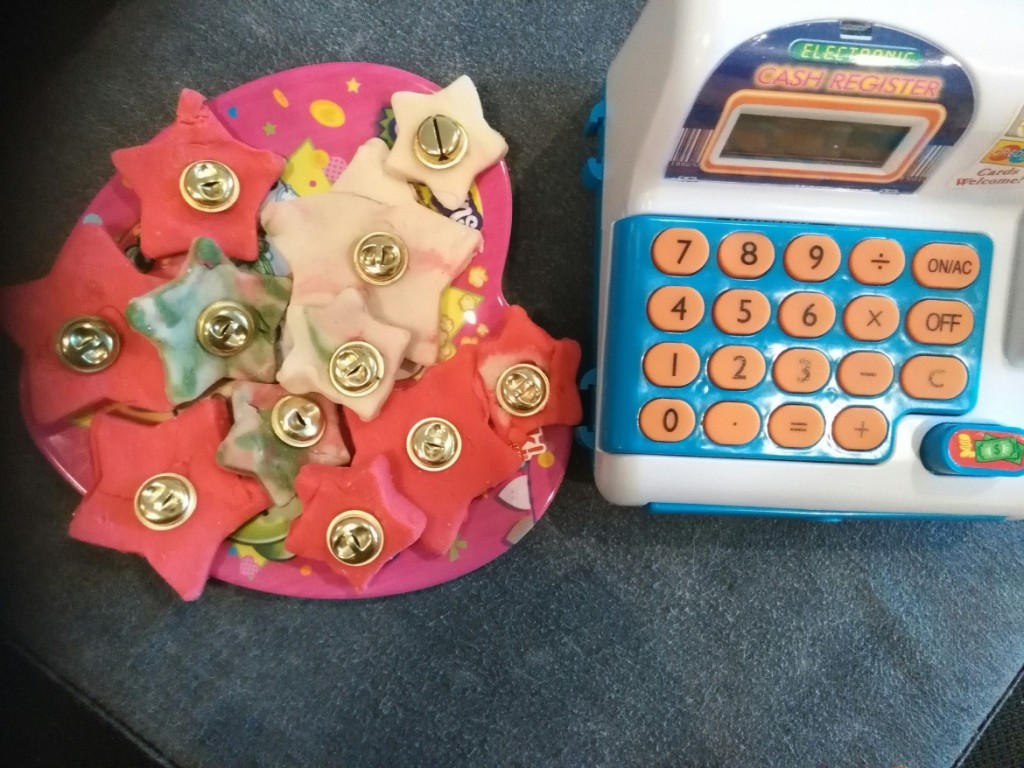 iety of ways. We even put some glitter in the playdough for extra Christmas sparkle!
Make a tree – using the green playdough we made a Christmas tree shape and then decorated it with some buttons, stones and acorns.
Playdough mats – we used a Christmas tree shape on laminated paper, and then added playdough and loose parts to decorate
Star biscuits – we used star shape cookie cutters and then opened a pretend bakery to sell them
Sneaky Skills we practised were:
fine motor skills in manipulating the playdough,
imagination and pretend play skills (the shape of the tree was rather "rustic" and required quite a bit of pretending for it to be a tree!),
language vocabulary learnt were the words: decorations, decorate, sparkles, top, bottom, beside.
Concept words such as big, bigger, small, colour words, counting how many of each item we had made eg we made three big stars and two little stars
joint attention and sharing ideas/cooperative play as we decorated and worked together
sensory input included touching the texture of the playdough, using our muscles to push hard or soft on the playdough
Play and social skills for pretending to be a shopkeeper/baker/customer. So much great language in this!
Tinsel
Playing with long strings of sparkly tinsel is fabulous sensory fun! Here are some of the ways we've used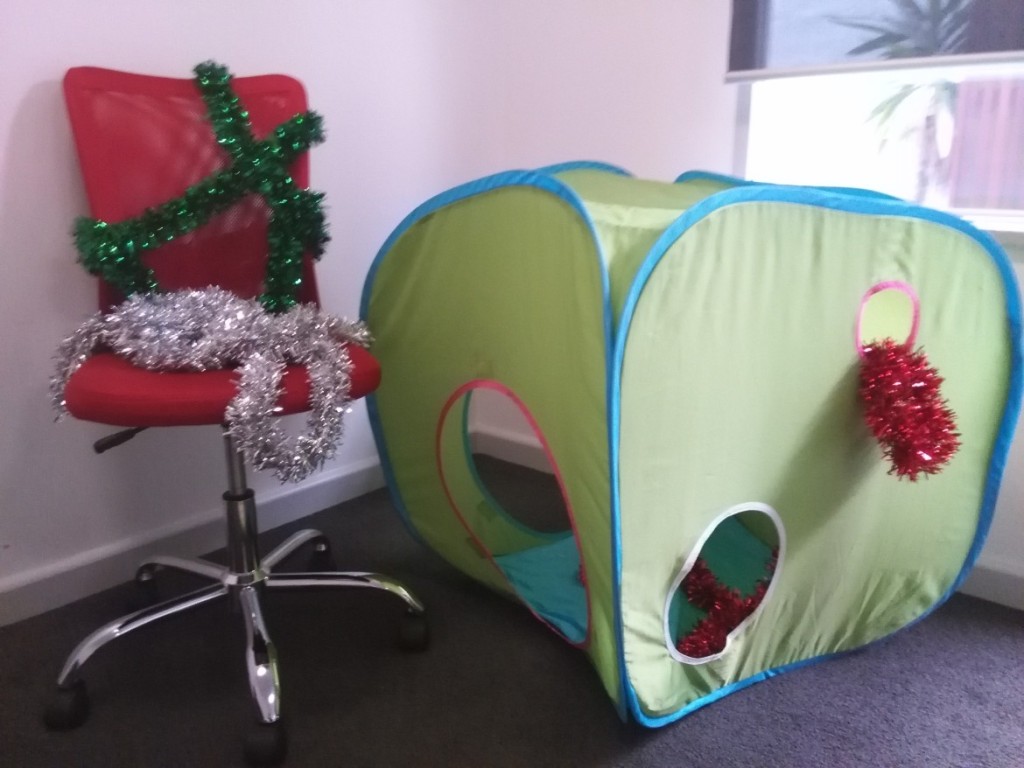 tinsel in our therapy sessions:
placing the tinsel on our laps and watching it shimmer and wiggle
poke through holes in our tent and pulling through
wrapping it around an office chair and then spinning the chair around
we've also enjoyed driving cars over it, or hiding animals in it
Sneaky skills we practised were:
joint attention and requesting "more" of the spinning/wiggling
visual sensory input
Language/vocabulary such as tinsel, sparkly, shimmer, shake, wobble, spin, long, short, colours
social skills and play for watching where the tinsel will poke through, and then taking a turn to poke it back through the hole to the other person
Nativity story play
As our clients come from such a variety of backgrounds – we always check first with fami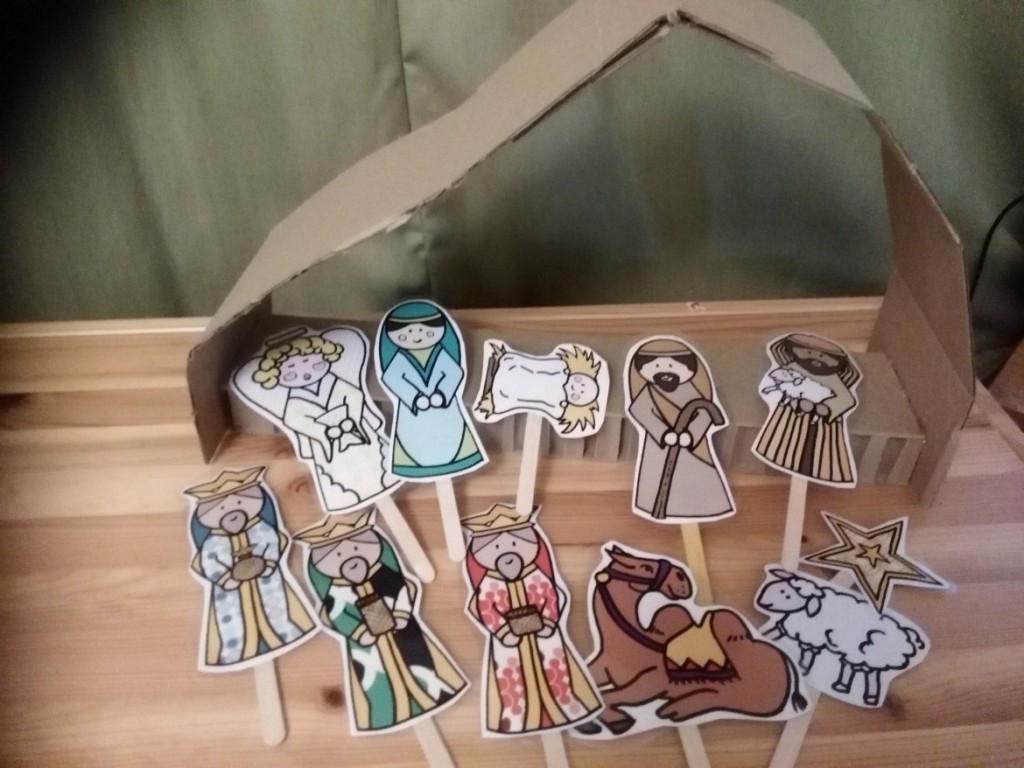 lies that they are happy to talk about the story of baby Jesus, before we pull out the nativity play.
We used some stick puppets to move around to tell and re-tell parts of the story-line
Then we used playdough to put the puppets in and arranged them into a stable scene using a
cardboard box
Sneaky skills we practised were:
the names of the animals and making their sounds (sheep, cows, horses etc)
telling the story and remembering the events in sequence
learning more advanced words like shepherds, camels, angel, manger
As we know with lots of play with children, it's a good idea to remember that the main aim is to enjoy the PROCESS and not get worried about the end PRODUCT – kids will still learn a lot even if the playdough Christmas tree is a bit wonky!