Last month our Occupational Therapist Rachel (RH) was lucky enough to catch up with Amee Carrick, mother, early educator and creator of tiger time – an instagram page dedicated to inspiring parents to get creative with the sensory play! Providing endless, non-screen based, options for play and learning. Amee can be found over on instagram under the handle @_tiger_time_ https://www.instagram.com/_tiger_time_
RH: Amee, tell us a bit about your background.
AC: My creativity originates back to High school where I always enjoyed studying Arts. I then went on and became qualified in Interior Decoration & Design which then led me to becoming a qualified Teacher from years Prep- Year 12 with my major being Creativity and the Arts.
I worked for a few years and then my eldest son Ollie was born in 2015 and my youngest son Ned in November last year. I particularly enjoyed teaching in the early years as it enabled me to use my creativity to its fullest potential through creating sensory and play based experiences. Since being at home with my boys I've been able to embed these into the family home.
RH: You started your page earlier this year; can you tell us what inspired you?
AC: To be honest I wish I started TigerTime earlier. When Ned arrived the daily juggle of jumping from one to two children meant I needed quick fixes to keep Ollie entertained whilst I was tending to Ned. Some days with 2 was even hard getting out of the house. This generally resorted in the iPad or television, as it was an easy babysitting tool. However, I came to quickly realise this wasn't benefiting him.
As a routine with Ned started falling into place it gave me more opportunities to spend time with Ollie. I started creating sensory/play based activities for him and he's loved them ever since. Every day he asks, "When are we doing an activity Mum?" This then led me to share my ideas with the social media world and from doing this I had friends approach me saying, "why don't you create a separate page?" so it is now transformed into a business which has moved quickly but the best part is it's a job that involves my children.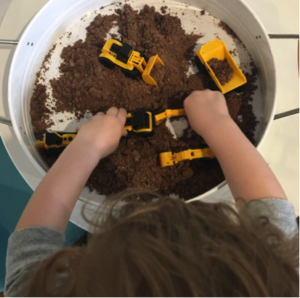 Amee got side tracked during baking to encourage Ollie to get involved in some sensory play with baking ingredients.
RH: You've shared some great tips and speak often about sensory play, why do you think this is so important for the development of little people?
AC: Sensory play is important for the development of little people as it is crucial for brain development and encourages sensory interaction (our five senses). It also allows the child to be the facilitator which enables them to play, explore, create, discover and investigate using practical life skills.
Children need real-life opportunities to understand face-to-face interactions with adults and other children. Playing with different types of textures, tastes and objects helps your child build new ways of talking about the world.
Sensory shakers made from bottles and craft store fillings are engaging Ned's senses and encouraging him to explore
RH: One of the things we like about your page is your passion for making it easy to play "without screens". Can you tell us why you feel this is so important?
AC: I am definitely an advocate for minimising screen time. As an educator I know that technology can never replace the benefits of sensory/play-based learning. However I also understand it isn't going away and it can offer educational value when used appropriately.
Something I noticed with Ollie was he would become almost mesmerised by the screen without even noticing what was going on around him. This became frustrating when I would try and get his attention and was unable to.
Sensory and play based learning is beneficial for language development and I feel that language can become lost when our children are constantly placed in front of a screen. On my Instagram page I am constantly questioning Ollie through video footage to help broaden his language and vocabulary.
RH: As an OT who works everyday with fine motor and sensory development – I am really excited to see your play includes a lot of sensory experiences as well as fine motor skills. What is your inspiration for this type of play?
I love being a part of that developmental leap when you witness their cognitive growth processes such as; scientific thinking, problem solving, remembering and decision-making.
The younger we target fine motor skills the small muscles which control the hand, fingers and thumb we will be able to continue to complete important tasks successfully such as feeding ourselves, writing, buttoning, zipping and tying shoe laces.
Creating sensory experiences also aid children in learning sensory attributes such as the differences between soft/hard, cold/hot, sticky/rough which are important stepping stones to establishing life skills.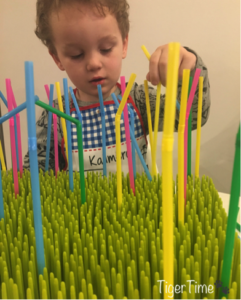 Amee used her bottle drying rack and some plastic straws to work on Ollies fine motor skill development
RH: You are a mum of 2 young boys who feature heavily on your page, how on earth do you go with juggling being a busy mum, encouraging developmental play and fitting in all of life's other busy moments?
AC: The daily juggle definitely makes the day go faster. Although, I am lucky I am surrounded by a supportive extended family and my husband Glen also helps lighten the load of a night and weekend when he's not working.
I try and create activities for Ned in the mornings before he goes down for his day sleep. Then once he's down this gives Ollie and I the opportunity to play. I just keep reminding myself that this active lifestyle was created to benefit my children.
Amee has used painter's tape and household items to help Ollie begin to learn some of his pre-writing shapes.
RH: Any tips for parents just starting out on ways to encourage sensory play?
AC: I think as parents whether we are full/part time working or carrying out domestic duties it is really important to make that time for your child to engage in sensory play.
On my Instagram page _tiger_time_ I try to create activities that include everyday household items to make it easy and cost effective for families. I've had parents say to me "wow, that's so easy why didn't I think of this? We have those coloured straws at home or muffin trays, pasta etc. It also proves that play doesn't have to be that expensive toy with batteries it's constantly surrounding us.
Household items, and using them in a creative way, such as fruit loop rainbows, are a great way to easily encourage sensory play in your day.
RH: What are some key purchases or items that you would recommend for a family to set up some play sessions at home?
AC: I highly recommend Play dough as the activities you can create using this are endless and little ones love it. Play dough also targets a variety of ages and is great for strengthening muscles. You can also make this yourself!
Kinetic sand – is also a great material serving a similar purpose.
Food dye- it's so easy to fill a bowl, tray or storage container with coloured water then add some animals or measuring cups.
Plastic animals – great as they can be added to that water play or used for sorting activities, learning about habitats and role-playing mini worlds.
Muffin trays – are awesome from 6 months of age and onwards. Again for role-playing cooking activities, pom pom or button sorting and colour coding baby blocks.
Recycle plastic water bottles – which can be filled with household items to create sensory bottle shakers.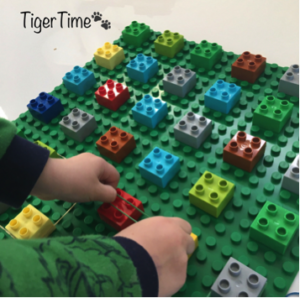 Lego and elastic bands during a fine motor play session with Ollie.
RH: Any other important messages you have for us?
AC: Make time to play with your child as play matters. Even if its 15 minutes-half an hour a day it will make your child's day and assist them in using their creativity, develop their imagination and continue to aid healthy brain development and learning.
Try and use a balanced approach to technology, offering it in small intervals and be conscious of how much time your child spends with technology. Don't allow it to overtake the essentials such as; reading, play or out door play time.
Feel free to head over to Amee's instagram for some inspiration! https://www.instagram.com/_tiger_time_