Hello, I'm Sarah Young, Speech Pathologist. It is a privilege to join the large community of colleagues at Dee Wardrop Speech Pathology.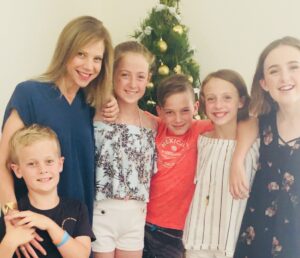 Melbourne has been my home since I returned from travels and time working in the UK. Prior to that, I grew up in Adelaide with a family I cherish dearly.
In this photo, I'm with my gorgeous nieces and nephews. I get to spend every summer with them at the beach. My nephews are very active boys and we love to go bike riding and on boating adventures together. My nieces are just divine – I am in awe of their dance moves, culinary skills and wise views on human rights.
When the coronavirus pandemic levels out and Melbournians are in shared spaces again, I'll be back on the dance floor with my friends, as part of my dance and performance group which I've been part of for many years now. We'll be rehearsing a choreographed routine in preparation for our next Body Electric Dance performance, in front of 1200 screaming fans. I can't wait for that day!
In a broader sense, it matters to me that we live in a world where everyone is treated equally, where compassion and acceptance prevail. For 13 years, I have been engaging in personal and professional development, creating endless possibilities with others to lead fulfilling lives. Without a doubt, the skills I have developed during this study flow into my professional capacities.
I am excited to begin this new journey in my career and grateful to be working with such an accomplished team. Thanks for taking the time to stop by and read and I look forward to meeting some of you soon at the Eltham or Thornbury clinics!