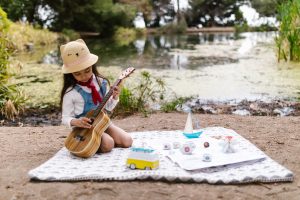 Music Therapy
In our team we call music therapy "the sneaky therapy" – where children are having so much fun they don't even notice what they're working on!
Music therapy is the intentional use of music and music activities to address different areas of need for each individual.  Music therapy sessions are tailored to provide opportunities to work on social skills, language and communication, or fine and gross motor skills.  It encourages self-expression and validation of clients as individuals, through their creative and imaginative use of music.
As music is such a social activity, it easily helps children and families to have positive experiences with the different musical activities.  Music therapy is also beneficial for adults, using music to provide opportunities for social interaction, choice and control, self-expression and validation of their individual identity.
Music Therapy can be used to enhance work being done in Speech Pathology or Occupational Therapy, can assist with transitions for people with autism, learning new skills such as toilet training or eating or school readiness – or anything!     The sky is the limit when Music Therapy is included in an intervention program, as our therapists can write and play songs that address any kind of individual issue.