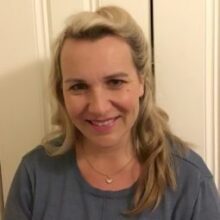 Tamsin Downes
Senior Speech Pathologist
Tamsin has been working for 20 years with adults across the continuum of care from acute hospitals and intensive care to community therapy, rehabilitation in the home and residential care.
With a focus on acute neurological diagnosis, care and management, her experience has included management of clients with head and neck cancer, voice disorders and progressive neurological disease.
Tamsin has specialised in the area of dysphagia / swallowing but also has a passion for voice as it was this that drew her to the profession of speech pathology. Tamsin has also been a leader in student supervision in her workplaces, having completed further study in the area and has co-ordinated and lead student programs for many years.
In between juggling a family with two daughters and singing with jazz bands, Tamsin enjoys her work with adult clients, supporting them to manage swallowing problems, speech and language problems and voice disorders.