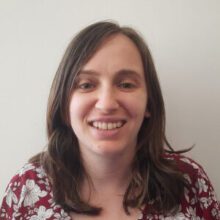 Rebecca Black
Senior Occupational Therapist
Rebecca (Bec) has been with DWSP since 2015. She graduated from La Trobe University in 2013 with a bachelor's degree in Psychology and a master's degree in occupational therapy. Bec is now part of our Senior Leadership Team.
With knowledge in both Occupational Therapy and Psychology Bec has the perfect skill set to provide tools and guidance to clients that face behavioural and/or emotional challenges that are impacting their participation in school or their community.
Bec is also involved in school-based interventions and support. The therapy she provides aides in school readiness, handwriting, gross/fine motor skills and social skills development. She is also skilled in the support of adult and complex clients in areas such as mobility, equipment, seating, and social participation in the community.
As a Senior Therapist at DWSP Bec is now in charge of the DWSP Clinical Programs and staff support. She mentors and trains members of the Occupational Therapy team as well as other staff.
Bec provides therapy sessions at both the Northcote and Coburg clinics as well as online/telehealth consults for adults and children.