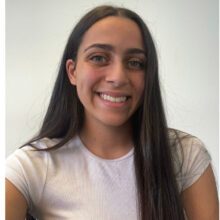 Marina Eskander
Speech Pathologist
Marina graduated from La Trobe University in 2020 with a Bachelor of Applied Science and Masters degree in Speech Pathology.
During her post graduate study Marina pursued multiple volunteering roles which include working with children on mission trips in countries such as Fiji and Egypt, teaching primary school children EAL (English as an Additional Language) and completing speech pathology assessments with Speech Pathology for Schools. 
Marina is a vibrant and enthusiastic clinician who is passionate about working with children and adolescents. Marina believes that therapy should be fun and engaging, and as such, children enjoy working with Marina just as much as she enjoys working with them.