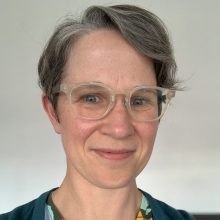 Kate Parsons
Speech Pathologist
Kate has a Bachelor of Arts (Honours) and Master of Speech Pathology, both from the University of Melbourne.  In between those two degrees, Kate worked in administration and education-related roles in Japan and Australia, before deciding to change careers to speech pathology.  She hasn't looked back!
Kate particularly loves working with pre-school children and their families.  She uses a family-centred approach to her work, where she builds collaborative relationships with caregivers in her sessions.  Kate also has a passion for evidenced-based literacy instruction and has completed Sounds Write training.  
Kate works at our Northcote clinic.
Articles written by Kate: Play to learn – Dee Wardrop