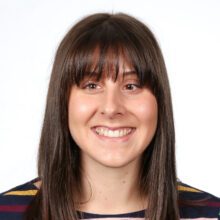 Julia Ferraro
Occupational Therapist
Julia graduated from LaTrobe University in 2015 with a Bachelor of Health Science and Master of Occupational Therapy Practice. Julia comes to DWSP with experience working in government special developmental and specialist schools. She completed a placement in an autism specific school setting in her final years at university which fostered a love of working with children with different educational needs.
Julia has extensive experience supporting primary and secondary aged children with intellectual disabilities, autism spectrum disorder and global developmental delay. She is passionate about building strong support systems around children to maximise learning, success, and participation.
Julia has a love of learning and is constantly seeking out ways to build her knowledge and skills to support children and their families. She is creative, empathetic, and flexible in her approach to therapy to ensure all children can experience success and reach their full
potential.
Julia provides school-based services on Wednesdays, and in clinic services on Thursdays and Fridays at Eltham and Northcote.