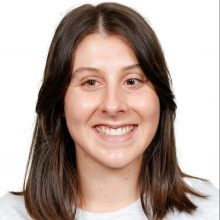 Julia Ferraro
Occupational Therapist & Assistant Clinical Director
Julia graduated from Latrobe University in 2015 with a Bachelor of Health Science and Master of Occupational Therapy Practice. Julia has a background working in government special and special developmental schools and brings with her experience in navigating educational systems and working in collaboration with teaching and school leadership teams to DWSP. 
Julia has extensive experience supporting primary and secondary-aged children with intellectual disabilities, autism spectrum disorder and global developmental delay. She is passionate about building strong support systems around children to maximise learning, success, and participation. 
Julia is an Assistant Clinical Director, leading our Occupational Therapy and Schools & Education Service streams and works with clinicians and schools to provide therapy and professional learning services in education settings. She also coordinates DWSP Group Programs and loves to find creative and fun ways to connect participants to develop their skills in functional and practical settings.