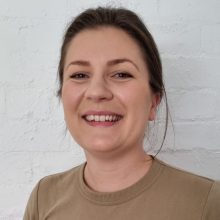 Hannah Kelly
Speech Pathologist
Hannah joined the DWSP team in January 2023. She has a background in linguistics and studied a Masters of Speech Pathology at the University of Melbourne. Hannah grew up with a love of language from an early age, and eventually landed on speech pathology as the best way to apply this passion in service of others.
Hannah has experience working as a speech pathologist in a range of education settings, with a focus on autism, alternative & augmentative communication (AAC), play & social skills, language, and literacy. She enjoys collaborating with teachers, teacher's aides, psychologists, and occupational therapists to improve educational outcomes for school-aged clients.
Having worked primarily in the school context, Hannah is looking forward to working more closely with clients and families in the clinic setting to achieve their communication goals and improve their quality of life.
Hannah works at the Coburg, Northcote, and Footscray clinics, as well as school-based settings.
Articles by Hannah – Perth, Hobart….now DWSP! Meet Hannah – Dee Wardrop