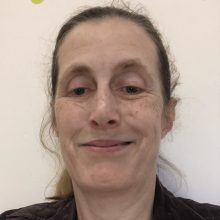 Felicia has recently joined DWSP in the role of Registered Music Therapist.  Originally from Sydney, she comes to us with over 15 years of experience in music therapy, working with a variety of clients from young children to adults. 
Felicia has previously worked for Able Australia, Music Together, Sing and Grow, Diamond Valley and Croydon Special Developmental Schools, and in private practice. Her main focus is adults and children with disabilities, and she is particularly interested in Autism Spectrum Disorders and Deafness.  Felicia has a passion for using the power of music to help the people she supports to meet their goals and to help them connect and communicate.   
Felicia will be working with adolescents and children at our Northcote and Coburg clinics on Thursdays and Fridays.