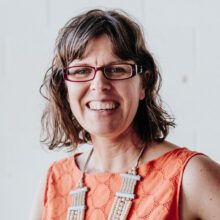 Esther Bird
Senior Speech Pathologist
Esther currently holds the position of Speech Pathology Team Leader. She has worked in the sector for over 20 years and is considered a Senior Therapist at DWSP. Esther has extensive experience in disability, early intervention and educational settings.
Esther is committed to using her therapy to improve communication skills and quality of life for her clients. She has had a lot of experience working with children and adults who require augmentative or alternative communication (AAC) systems. Her therapy sessions support children with pre-verbal skill development, early social interaction skills and early speech and language development. As well as adults and children who present with ASD or Cerebral Palsy.
Esther employs music as a part of her therapy sessions. She is skilled and experienced in teaching Key Word Signs, language and social skills through the use of music. Esther is enthusiastic about music therapy and she feels that it contributes greatly to her clients' progress.
Aside from her clinical work Esther is in charge of the DWSP Clinical Policy Development and trains and mentors staff. She is particularly skilled at helping people think outside of the box.
Prior to DWSP Esther held the position of Senior Speech Pathologist at Comtec (Yooralla) for many years. There she supported individuals and families throughout Victoria with communication issues.