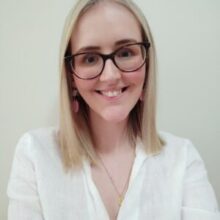 Emily Elston 
Senior Speech Pathologist 
We welcomed Emily to DWSP in 2021 as a Senior Speech Pathology Therapist. Emily has had over 10 years of experience in special education schools, early intervention, clinical settings, and home settings. Emily is a respectful, patient, and supportive clinician who uses evidence-based tools to help her clients achieve the best possible outcomes.
Emily has a long history of working with children with special needs and conditions like ASD, Developmental Delay, Intellectual Disability and Cerebral Palsy. Emily is passionate about Early Intervention and values the importance of working in collaboration with clients and their carers.
Emily is a certified provider of the Hanen "More Than Words" program and has undertaken both PECS and PODD training. She has extensive experience in Alternative and Augmentative Communication (AAC) and can support children of all ages in their access to communication and sourcing the best AAC program for their needs. Emily is knowledgeable in the process of applying for AAC devices and support through the NDIS,
Emily runs her therapy sessions at the Northcote and Eltham clinics.
Articles written by Emily: Supporting your child's language development at home – Dee Wardrop