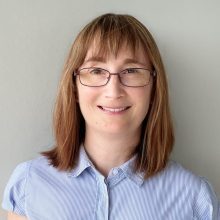 Ellen Burgess
Speech Pathologist
Ellen graduated from The University of Queensland with Honours in Speech Pathology. She has a background in private practice in Mackay, Queensland, as well as being the on-call Speech Pathologist for Mackay Private Hospital. She has worked with children who have varied needs including those on the Autism Spectrum, with Cerebral Palsy and Congenital Muscular Dystrophy.
Ellen has always had an interest in communication and language. She studied Journalism and Japanese before channelling her skills into Speech Pathology. She also developed a particular interest in working with children as an English teacher while living in Japan.
She enjoys learning about each individual person she works with, so she can deliver therapy that is best suited to them. She also values the importance of play in children's learning and strives to create a fun, positive, engaging therapy environment for her clients and their families.
She has a particular interest in Alternative and Augmentative Communication (AAC), and feeding therapy, having completed training in both areas. She currently works at our Northcote and Coburg clinics.
Articles by Ellen Meet our new Speech Pathologist – Ellen! – Dee Wardrop