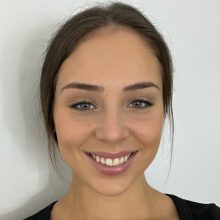 Ella 
Allied Health Assistant
Ella joined DWSP at the beginning of 2022, working closely within the reception and Allied Health Assistant teams.
Ella has a passion for self-development and working within the health field and lots of experience working with children and in customer service. She is currently undertaking a Bachelor of Speech Pathology (Honours) at LaTrobe University, with future aspirations to work closely with children and adolescents on the autism spectrum and families, as a Speech Pathologist. Before undertaking her degree in speech pathology, Ella studied Osteopathy which further solidified her interest in working within the health field. 
Ella's warmth, positivity and bubbly disposition allow her to develop great rapport, as she strives to provide people the most positive and engaging experience as an Allied Health Assistant and receptionist. Ella works at the Northcote and Coburg clinics, as well as in school-based settings.