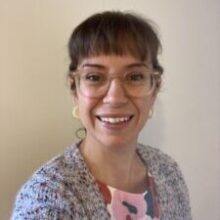 Eleanor Brignell
Speech Pathologist
Eleanor is a Masters qualified Speech Pathologist with a background working in both public and private health, including school-based interventions. Eleanor has worked with children and young people from diverse backgrounds in Melbourne and London to help them achieve their communication goals. She has also provided training for education professionals on supporting children with speech, language and communication needs.
Eleanor has a passion for working holistically with families to ensure their speech pathology sessions have a functional impact outside the clinic. She enjoys coordinating with other therapists, including Occupational Therapists and Psychologists, to ensure that the children in her care receive a comprehensive approach to their therapy. Her special interests include; working with children with language disorder, autism spectrum disorder and social communication difficulties.  Eleanor enjoys incorporating play, music and the interests of her clients in her therapy sessions.
She currently works at both the Coburg and Northcote clinics.