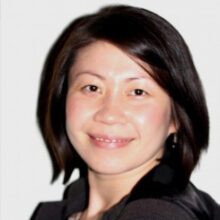 Christina Vo
Senior Speech Pathologist
Christina joined DWSP in 2014 and has over 11 years of experience working in Speech Pathology. In her role as a Senior Speech Pathologist she works with children to develop their language and literacy skills and improve feeding issues, and mentors and trains clinical staff.
Christina brings to DWSP her experience in the education setting; working with children with special needs such as Developmental Delay, Intellectual Disability, Autism, Down Syndrome and Cerebral Palsy to her role at DWSP.  She  is experienced in working with a multidisciplinary team to deliver therapy and achieve goals and enjoys working with clients using Augmentative and Alternative Communication (AAC).
Christina believes that a holistic approach to care provides the best outcomes for the child and works to engage all people involved in the child's care and development to help clients and their families achieve the best possible outcomes.   Christina is fluent in Mandarin and is able to provide therapy in a bilingual model.
Christina is trained in the delivery of a range of interventions, including Hanen, PECS and the SOS approach to feeding.    She leads our multi-disciplinary Feeding Clinic at the Coburg site, working with Occupational Therapy and Speech to improve mealtime outcomes for fussy eaters and children with food aversions or feeding challenges.  Christina works at our Coburg and Footscray clinics.