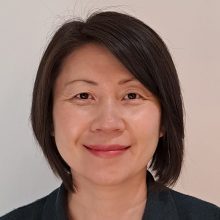 Christina Vo
Senior Speech Pathologist
Christina graduated with a Master of Speech Pathology at Macquarie University in 2009. Prior to joining DWSP in 2014, Christina began her speech pathology career in a special developmental school, working alongside other allied health professionals in a multidisciplinary team.

Christina enjoys working with children across all ages; in the areas of speech, language, Alternative and Augmentative Communication (AAC), literacy and feeding. Christina has completed additional professional training and certification,
including Hanen, Sounds Write, AEIOU approach to feeding,
SOS approach to feeding. 
Christina shares the lead role in DWSP's
 Feeding Clinic at the Coburg site, working closely with Occupational Therapy to support family mealtime outcomes using the Responsive Feeding approach for fussy and challenging feeders, and children with oral motor feeding challenges. 
Christina has a calm and enthusiastic nature. She loves collaborating with parents, educators and other health professionals to support the child to develop their skills and achieve their therapy goals. 

Christina can speak at a conversational level in Cantonese. Christina works from the Coburg and Footscray sites.