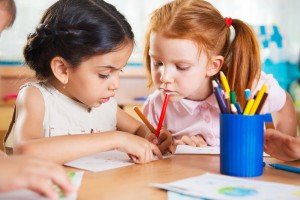 Our school-based clinicians bring current knowledge, innovative ideas and a wealth of Australian and international experience to their work alongside teaching staff.     They are passionate about supporting students within the classroom environment, and can assist with curriculum and classroom planning for children with specific learning needs.
By working as a team with teachers and families we can integrate therapy goals, provide specialist advice and assist children to reach their full potential.  We provide a range of services to schools, including school visits for individual students.  We also supply Speech Pathologists and Occupational Therapists to schools on locum, term by term or annual contracts.
Assessments:
Funding Assessments: For students of any age who require comprehensive assessment and reporting for funding purposes
School Entry Screenings:  These short assessment sessions are suitable for kindergarten and Grade Prep groups.  Useful for school preparation and early school year planning.
Intervention Services:
We offer regular ongoing sessions to school based students.  We can assist children with:
speech clarity & language development
grammar and narrative
literacy & reading skills
stuttering or voice quality
listening, auditory processing or hearing loss management
autism spectrum disorders
handwriting
fine and gross motor skills
attention and organisation
social skills and making friends
Other Services for Schools:
Program and Material Development:  We pride ourselves on our development of programs and written materials for teacher aides and teachers to assist carry-over and practice of therapy activities.
Aide Training:  We provide training to teacher aides to implement programs or support children with their learning needs within the classroom setting.
Parent / Teacher Education Sessions:  Professional development for teachers and information nights for parents are also part of the services we offer.
Funding Options:
We offer packages and group discounts for schools with multiple students accessing our services.  We are happy to arrange school, parent or "split" billing to take advantage of rebates, government funding, or Private Health cover.  We aim to work with schools and families to create realistic  funding options for children to access speech pathology and occupational therapy.
Please contact us directly to further discuss what services we can offer your staff and students.