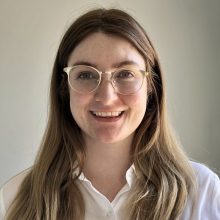 Cait Mahony
Occupational Therapist
Cait joins our team with a background of occupational therapy work in mental health settings in the public and private sector and experience as a disability support worker. 
Cait has supported individuals with a variety of needs with independent living, self-care, social skills, wellbeing, emotional regulation, and sensory modulation.
Cait brings a client-centred and strengths-based approach to therapy with an understanding that every individual presents with their own unique skills and abilities, which are encouraged and incorporated into therapy plans. 
Cait is warm, patient, and loves to have fun and laugh during her sessions. Cait's focus is on empowering individuals to reach personal goals through engagement in meaningful activities, skills development, establishing positive habits and routines, and education.