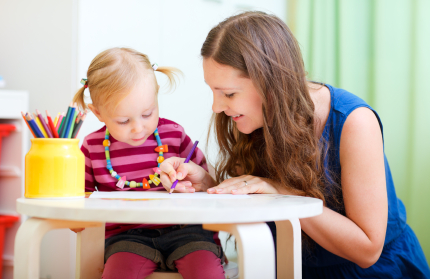 "I saw my very first private client in 2007 in a small back room of a chiropractic clinic.  After 8 months they asked me to leave because the talking, singing and laughter coming from the room all day was disturbing the chiropractic patients!" – Dee Wardrop, Speech Pathologist.
Since then, we have grown to be one of the largest and longest running private speech pathology providers in Melbourne.  We take pride in our excellent reputation within our local community, but above all – we are passionate about our work.  The talking, singing and laughter that Dee fostered in those sessions in 2007 remains a vital part of the relationship we have with our clients today.
From Speech Pathology, our services have expanded in the last 10 years to include Occupational Therapy, Psychology, Music Therapy, Autism Services and Group Therapy Programs. Our team works as a tightly knit unit, in close collaboration – offering clients the diversity of a large clinic with the care and attention of a small private clinic. We work with a range of education and health-care professionals, including teachers, preschool field officers, GP's, Developmental Paediatricians, Counsellors and Dieticians.
We provide relaxed, professional therapy services in 4 clinics located across Melbourne (Northcote, Eltham, Coburg and Footscray, as well as online (Telehealth) services for families who are outside Melbourne, or who prefer not to travel into the clinic.   Our diverse and experienced team gives you the best access to clinicians who meet your needs.  Our flexible evening and weekend opening hours mean you can choose the session times best suited to you and your family.
Give us a call!   We are always happy to offer advice and let you know whether we can help.  We'd love to share our knowledge and passion with you.