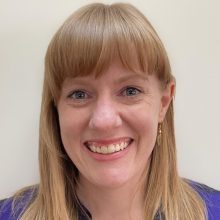 Erin White
Speech Pathologist
Erin joined the DWSP team in 2021 as a Senior Speech Pathologist. Erin comes to DWSP with 10 years of experience working in public and private schools in Australia and the United States. 
After studying linguistics and French in her undergraduate degree, Erin was drawn to the field of speech pathology where she could apply her love of language to help build communication skills in others. Erin loves being a Speech Pathologist because she can use her critical thinking, creativity and sense of humour to bring out the best in her clients. 
Erin values the importance of following a client's lead and meeting them at their developmental level to support their communication needs. She appreciates and employs each client's unique strengths and interests to engage them in therapy and support them in their areas of challenge. Erin enjoys being part of a multidisciplinary team, building relationships and working closely with families, teachers, and fellow therapists (Speech Pathologists, Occupational Therapists, Social Workers, Psychologists). She is committed to helping her clients understand themselves as learners, increase their independence, and advocate for their needs. 
Erin's areas of clinical interest include language delay and disorder, speech sound disorders, pragmatic and social communication challenges and executive functioning. 
She is a certified provider of the Hanen It Takes Two to Talk® program and has undertaken extensive training in executive functioning support and The Social Thinking Methodology. 
At DWSP Erin leads the Schools Service team and has developed the School Readiness Screening and School Readiness Professional Development Program. She works in schools and in the Northcote and Footscray clinics.