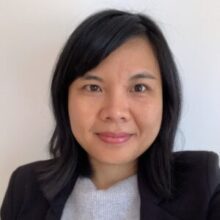 Annie Cao
Speech Pathologist
As a former teacher, Annie brings over 10 years of experience working with a broad range of age groups and in multicultural environments to her work as a Speech Pathologist in the DWSP team.  Annie has worked in primary and secondary schools as well as the Department of Defence prior to joining the DWSP team in 2021.
Annie is a passionate clinician, who is dedicated to providing high quality, evidence based services to children and adults with communication and swallowing needs and is comfortable working with clients aged across the lifespan.
Annie is fluent in Cantonese and Mandarin Chinese and is able to deliver therapy in these languages . She has a strong interest in bilingualism and communication in both children and adult populations, and enjoys working with families who have multiple languages in their home.
Annie brings unique skill-set to her therapy sessions, helping clients to achieve their full potential and lead fulfilling lives.   As a parent herself, she understands the challenges in therapy goals in the home environment and enjoys building relationships with adults and children alike.  She strives for life-long
learning and professional growth and has attended professional trainings in different areas
such as dysphagia and pediatric feeding.
Annie works across both the Footscray and Coburg clinics.