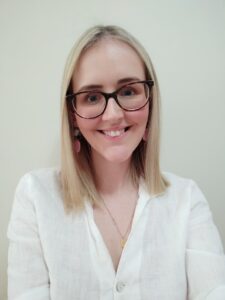 Emily values the importance of providing family and client-centred therapy to all children and families she works with through educating, supporting and including families every step of the way. Emily is a respectful, patient and supportive clinician who enjoys getting to know children and their families in order to provide them with the best possible outcomes through the provision of evidence based therapy.
Emily joined the DWSP team in 2021, bringing with her over 10 years experience in Special Education Schools, Early Intervention, clinics, and home settings with children, their families and support teams.  She has experience working with children with a range of needs and diagnoses including Autism Spectrum Disorder, Developmental Delay, Intellectual Disability and Cerebral Palsy.
Emily has a strong passion for Early Intervention and values the importance of working collaboratively with families and children to support them to achieve their goals and navigate developmental phases. Emily is a certified provider of the Hanen "More Than Words" Program.
Emily also brings with her experience in Alternative and Augmentative Communication
(AAC) to support children of all ages to access communication and find the best AAC
system to meet their needs. Emily has undertaken both her PECS and PODD training, and
is experienced in the process for applying for AAC devices and support through the NDIS.
Emily will be working across the Thornbury and Eltham clinics.