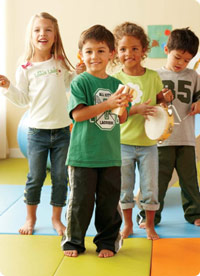 Our small group programs are designed to provide opportunities to develop communication skills in a small peer group setting.  We offer a broad range of programs which cater for a variety of needs.  Group programs are suitable for NDIS participants and plans can be tailored to suit funding packages.
Group sessions for children are an excellent way to focus on development of social skills such as turn-taking, task completion, non verbal communication skills, and emotional regulation.  Groups are tailored to participants and are suitable for children of all ages.
Group sessions for adults or adolescents are a good opportunity for practice, reflection and mentoring with other people with communication goals.  Group programs are a cost effective way to give clients a block of time to practice and focus on communication needs in a realistic context.
Group Information: 
Group sessions are facilitated by 2-3 staff (Speech Pathologist, Occupational Therapist, Play Therapist, Music Therapist, Teacher or assistant)
3-7 participants
Programs run for 6-8 weeks
Groups run each school term (for adults and children)
School holiday groups available
Sessions are 45 mins – 1.5 hours duration
1:1 pre-group evaluation required for new clients
Sessions may / may not include parents, depending on the focus of the group.  The group program often includes a pre-or post parent session or concurrent parent education sessions, depending on the needs of the group.
Current Groups (subject to change and availability)
February 2018 – **NEW** Family Music and Movement Class
Fridays 9.30am – Term by term week program for preschoolers, siblings, and families. With a focus on fun, musical enjoyment and play – Esther Bird, Speech Pathologist (and musician) leads a fabulous program which incorporates music, singing, laughter, dance and play – together with some colours, counting, socials skills and early language songs and routines.  Fun for the whole family, with spaces limited to 8 families.
Get Set Prep:  For children entering prep in 2019.  See our blog post for more details.
Ready Readers Literacy Program:   Designed to support 6 – 7 year olds in further developing strong letter-sound associations using "synthetic phonics." Synthetic phonics involves teaching sounds and the letters that represent them, and then building up to blending the letter sounds to make words. This gives children the foundation skills to decode unfamiliar words.  Program runs fortnightly on Saturdays during Term 3, 2018.
Language & Speech:  Facilitated by 1-2 Speech Pathologists, this group focusses on language or speech goals for clients joining the group and taking a break from individual programs.  It may also include literacy skills, storytelling and listening skills depending on the clients attending.
Language, Emotion and Sensory Regulation:  Facilitated by a Speech Pathologist and an Occupational Therapist, with age/skill matched clients.  Activities focus around developing language skills in a natural context, while learning about self regulation, sensory development and interacting with peers. This group is appropriate for clients with Autism Spectrum Disorders, sensory processing difficulties, or developmental / cognitive delays. 1 hour.
Social Skills at the Circus:  In partnership with Westside Circus, we provide a social skills program in this fun and challenging community setting.  The program runs for 2 terms – with group participants completing a clinic based group program prior to attending the Circus based program.
Early Start Denver Model (ESDM) Playgroup: Facilitated by a Speech Pathologist trained in the ESDM  approach, and assisted by an Occupational Therapist and/or Play Therapists, this group is suitable for parents, carers and children on the Autism spectrum, wishing to access th
erapy services which focus on the ESDM principles of intervention.  1.5-2 hours.
Accent Modification:  Facilitated by 1 or 2 Speech Pathologists, this is a fun way to improve your skills and confidence speaking and writing English!  One on one sessions available as a package of 6 sessions, or get a group of friends together! Weekend and evening sessions available.