An online literacy program designed especially for Prep students who are at a critical time in their early reading journey.
Speech Pathologists are traditionally involved in teaching literacy and reading skills to students who are struggling with reading in the classroom. We support students with a strong focus on developing the skills that underpin successful reading.
In Term 2, 2020 our Prep students may not be able to access face to face specialist teaching time to continue developing their reading skills this term, so we're extending our literacy programs to support them. Our program will suit prep students and early readers, offering daily online sessions focussed on early reading development and engaging in some peer interaction too!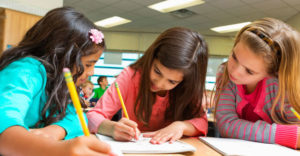 Sessions will be run by Speech Pathologist Jaclyn Georgiou, a Sounds Write trained clinician with a strong professional focus on in literacy development. For the last 8 years, Jaclyn has worked in Australia and internationally assisting students to improve their reading, and she now consults in a number of schools across Melbourne, as a specialist support for students developing their literacy skills.
About the program:
A 50 minute session will run each weekday afternoon
The full program runs for 4 weeks and sessions will start as Term 2 returns
The program can be joined on a week by week basis
Materials for the week will be emailed out at the start of the week, and are aimed to be suitable for the students to manage some tasks independently
Each week we'll offer a parent session in the evening (after the kids are in bed) to talk you through the week's materials and the skills we're working on, with time for you to ask questions
Maximum of 10 students per program
Costs are $55 per week (5 child sessions, 1 parent session + materials) OR  $185 for 4 week program (20 child literacy sessions, + materials + 4 parent training sessions)
Telehealth is an excellent way to deliver a literacy program. If you feel like your Prep or Grade 1 child may need additional 1:1 support with their literacy skills, Jaclyn is also able to offer a comprehensive assessment, followed by a tailored 1:1 program suited to the specific needs of your child.
Register your interest at reception@deewardrop.com.au  Attention: Remote Ready Readers Program (or complete the form below) and we'll be in touch!