We're thrilled to welcome Amelia to have joined the DWSP team as a Speech Pathologist.  Amelia is a Melburnian but applied for our role from her home in Townsville – helping us to a new "first" in our practice – a job interview over Skype!   Amelia is giving up her role in a sunny Queensland practice to come home, and we're excited to have her working with us.  Here she is in her own words…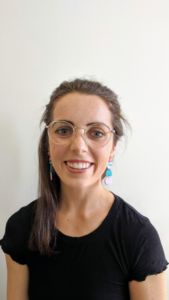 "Aside from a 2 year stint in Townsville, I have always lived in Melbourne, growing up only a few minutes away from the Thornbury clinic. I grew up as the sole musician in my family, completing the 8 AMEB piano exams and performing through Europe with my school's Chamber Choir. Throughout school and university, I always kept a book on my nightstand, devouring biographies, the classics, and any decent crime mystery. My passion for books and language continued as a part time English tutor whilst I was at university and then into my career in speech pathology.
Unsurprisingly, I found myself passing on my love of reading in Townsville, teaching kinder kids and Preppies their pre-literacy skills, and I found great joy in helping both children and adults learn to read and write. I am passionate about the value and the connection between communication and literacy skills, and believe that these skills unlock a world of imagination and captivation, which I think is what makes my job so unbelievably special.
I am not one to shy away from a physical challenge. For many years, I spent each Summer water skiing on Lake Eildon. I now enjoy trying new sports and in the last few years have began to try my hand as a snowboarder – although I spend more time sitting than standing! I have tackled internationally renowned multiday hikes and have travelled to Peru to hike to Macchu Picchu, and to Nepal to hike to Everest Base Camp. Tanzania's Kilimanjaro and the Kokoda Trail in Papua New Guinea are next in my sights.
I'm thrilled to be joining the DWSP team and look forward to meeting lots of new faces and families over the coming months."