In Term 2, 2019 we will offer this program for first time at our Footscray clinic after several successful terms at our Thornbury site.  This group session are designed for pre-schoolers aged 3-5 years to support them in developing their skills for interaction, play and communication with others.
What skills will my child learn?
Goals may include supporting children to:
begin to stay and play with peers,
to start to notice play actions of others,
to respond to play actions of others,
become familiar with a routine
to learn appropriate transitions between tasks
During the sessions we will also be age appropriate language and fine motor goals within each session.
How to book:
We currently have a wait list for places in this 4-week program.
Prior to participating in the group, you and your child will attend a pre-group session with Rachel Hammond (Occupational Therapist) or Erica Casey (Speech Pathologist) before May 14th 2019 when the group starts.
A post-group session will also be arranged for you and your child when you call to book.
Please don't hesitate to contact us at the clinic if you require any further information.
Group Dates: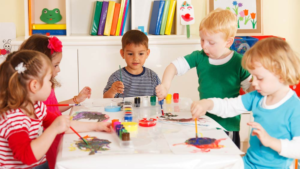 PRE-GROUP session prior to 14th May 2019
Tuesday 14th May 2.00pm
Tuesday 21st May 2.00pm
Tuesday 28th May 2.00pm
Tuesday 4th June 2.00pm
POST-GROUP session – 11th of June
Location: Footscray Clinic, 67 Whitehall Street