We are thrilled to welcome Megan Sceriha to the DWSP team this month.  Megan's warm and caring nature, as well as her skills and passion for therapy with kids and families, has helped her really quickly into our team, and colleagues and families are already enjoying their work with her.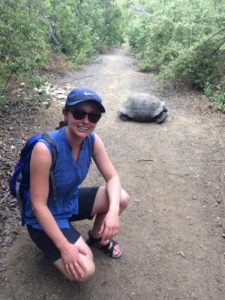 Megan is an experienced speech pathologist who supports children with a range of speech, language, play, social and fluency difficulties. Megan has worked in various settings including Community Health centres and the Victorian Autism Specific Early Learning and Care Centre located within La Trobe University.  She holds ESDM and PROMPT certification.
Megan has recently returned to Melbourne after travelling throughout South America, from the very bottom of Argentina, right to the top of Colombia.   She found meeting a Galapagos giant tortoise in the wild to be an incredible highlight!
Megan is excited to join the DWSP team and is looking forward to meeting new children and their families across Thornbury, Footscray and Eltham clinics.